Understanding the confirmation process for the jobs you are hired for
What is the confirmation process?
The hiring timeline varies, but you'll know you were hired when you receive an in-app and email notification stating "Application Status: Hired!"
You may be hired days or hours in advance of the job, but the confirmation process is a system that hiring partners use to ensure they have the right number of hires attending the upcoming shift.
How do Confirmations work?
Confirmation Messaging
After being hired for a job, confirm your shifts on the Jobble app within the next 6 hours. If you do not confirm or decline within the given time frame, you will be automatically removed from the job. If you cannot work a shift, make sure to decline it. Be aware that declining too many shifts OR not confirming or declining a shift at all will result in removal from the job.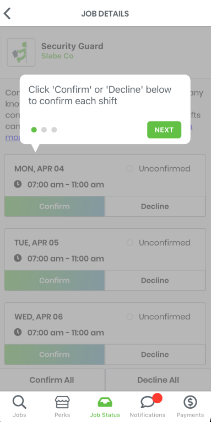 Need to change your response?
If you need to change your response, you can change it in your Active Jobs tab. If you decline a shift, that means you've notified the manager that you will not be able to work. Repeatedly declining a shift may result in removal from the job. However, you remain hired to the job unless you quit the job or the manager removes you.
Need to call out for a shift?
Please note: changing your status too close to the start time does not give your hiring manager enough notice. However, if there is a last minute emergency you can decline a shift to let the hiring manager know that you will not be able to make it. Once a shift has started you will no longer be able to change your response.