Check In and Check Out are two of the most important steps you can take as a Jobbler
Make sure you have your location settings enabled on your phone. You can often finds this in your phone's Location Settings. Allowing location permission to Jobble helps us make sure you are on-site at the right time. Deciding to keep location settings turned off makes it more difficult to prove you were at your shift at the right time and can result in payment delays.
How do I Check In and Check Out?
Checking In
The ability to Check In will appear on the app 15 minutes before your shift. You'll get a push notification to remind you to do it.
You can also open your Jobble app, navigate to the "Job Status" screen and click the job you need to Check In for. When you click the job, you should see a "Check-In" button at the bottom of your screen.
Checking Out
When you've completed your shift, make sure you go back into the Jobble app to Check Out. It's important to note that the manager gets a time and location stamp when you clock-in and out to verify you were there.
How to Check In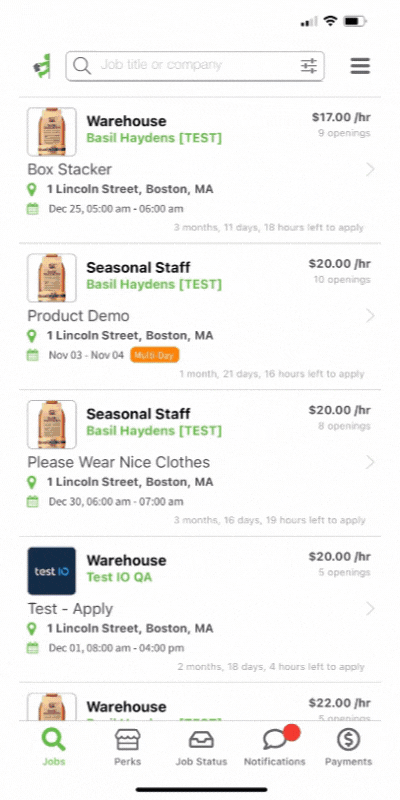 How to Check Out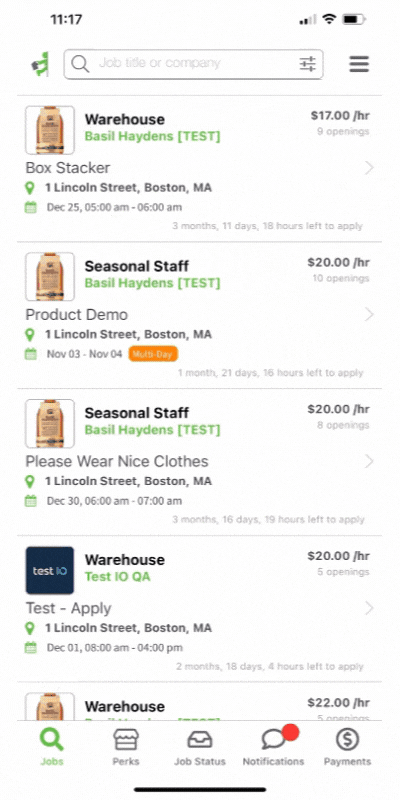 It's STRONGLY recommended that you always sign-in and out personally with your hiring manager in addition to Checking In and Checking Out on the Jobble app. We recommend checking to see if the manager has a physical timesheet for you to sign in and out on as well.
Why is Check In and Check Out important?
You are responsible for using the Jobble app to check in and check out of every shift you are hired to work. Each time you check in and out, you submit your time and also location. This is important because this information is referenced when the hiring manager reviews timesheets for payment. Failure to check in and out of your shifts on the job location can also result in removal from your job.
What if I can't Check In or Check Out on the app?
If you are encountering any issues during the Check In or Check Out process, first make sure you keep your own record of the time you started and completed your work.
Next, open your Jobble app. Navigate to the second tab, titled "Job Status." Then, under the Active Jobs section, click on the job you just worked.
You should be able to view the job and see an option that is titled "Time Card." When you click this, you should see the date and hours of the shift you were scheduled for. If you forgot to Check In or Check Out on the app, click the green icon on the far right that looks like a document.
This will open a window that says "Shift Note". Here you can leave a note that will be seen by the hiring manager. Include the hours you worked and explain that you were unable to Check In or Check Out for that shift.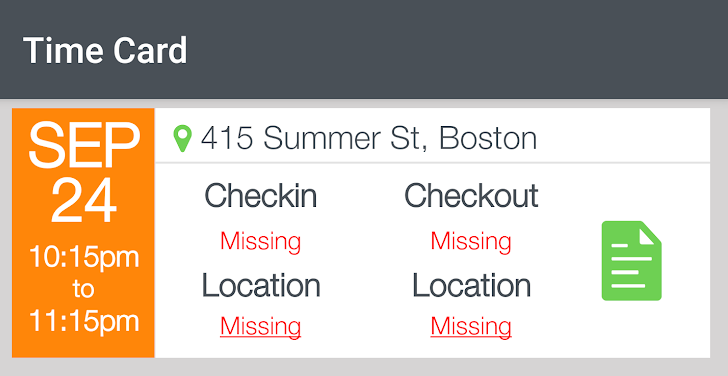 Failure to Check In or Check Out on the Jobble app, and failure to leave a note, may result in a payment delay or an incorrect payment. If you believe you are experiencing a payment delay or an incorrect payment amount, please reach out to our Support team to see if you're eligible to fill out an expedited payment request.