What to do if you are late, need to miss a day, or want to quit
When you are hired to a job, you are added to the roster and expected to attend all shifts listed in the job.
If you cannot make the shift, you need to take the proper actions to inform your hiring manager and quit the job so you do not face the consequences associated with being labeled a No-Show.
If You Are Running Late
If you are running late to your shift, you can message your onsite manager to let them know. You can access your onsite manager's info by expanding the check in window that appears 15 minutes before your shift starts.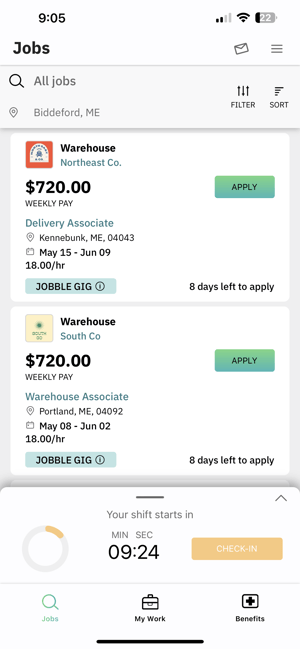 If You Cannot Work The Entire Job
If you cannot work the entirety of the single or multi-day job, you should take the following steps to quit through the Jobble app. It is recommended that you quit at least 48-hours (2 days) prior to the shift.
How to quit:
1. Log into your Jobble app
2. Navigate to the the "Shifts" tab of the "My Work" section
3. Decline all shifts that you have previously confirmed.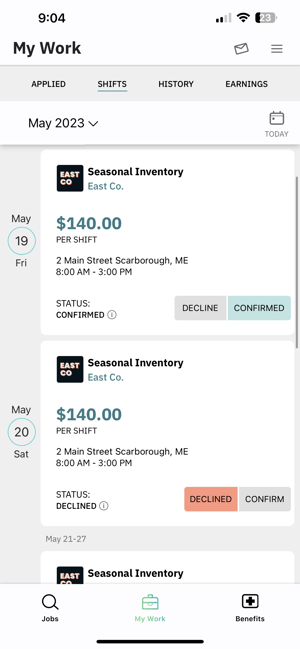 Quitting notifies the hiring manager that you are removed from the roster and should not be expected to attend your shift. This will not impact past shifts you have completed (you will still be paid for the time worked) but it will remove you from all future shifts.
If You Cannot Work Part of the Job
When you apply for a job, it is expected that you will attend each shift for its entire duration. If you are hired and know you have a conflict in your schedule, you must contact your hiring manager to notify them of the conflict or decline the shift when asked to confirm. When they have that information, they will be able to tell you if you are still eligible to work the other shifts or if you should quit the job, via declining all shifts.
What's the difference between Withdrawing and Quitting?
Withdrawing
Withdrawing is the action of removing your job application from the applicant pool. Once you've applied, you can withdraw your application at any time before the hiring manager makes a decision.

To withdraw a pending application:
Launch the Jobble app

Navigate to the "Applied" tab of the "My Work" section

Select "Withdraw"
Quitting
Quitting is the action you must take if you have been hired for a job and no longer want to work the job. Once you've been hired, you are expected to show and work your shift. However, we do understand that things may come up where you aren't able to commit to the job.