And how is it different from a shift?
Here's the difference between a shift and a job:
A job is the term used for the collection of information a Business Partner posts to the Jobble platform. This includes job details such as the location, job type, job description and individual shifts.

A shift is each individual period of time worked within a job.

When you are hired to a job, you are expected to work every shift within that job post.
So what does that mean? We will use this example job:
A job can be posted for 5 days from September 1 to September 5.
That job has five shifts: September 1; September 2; September 3; September 4; September 5.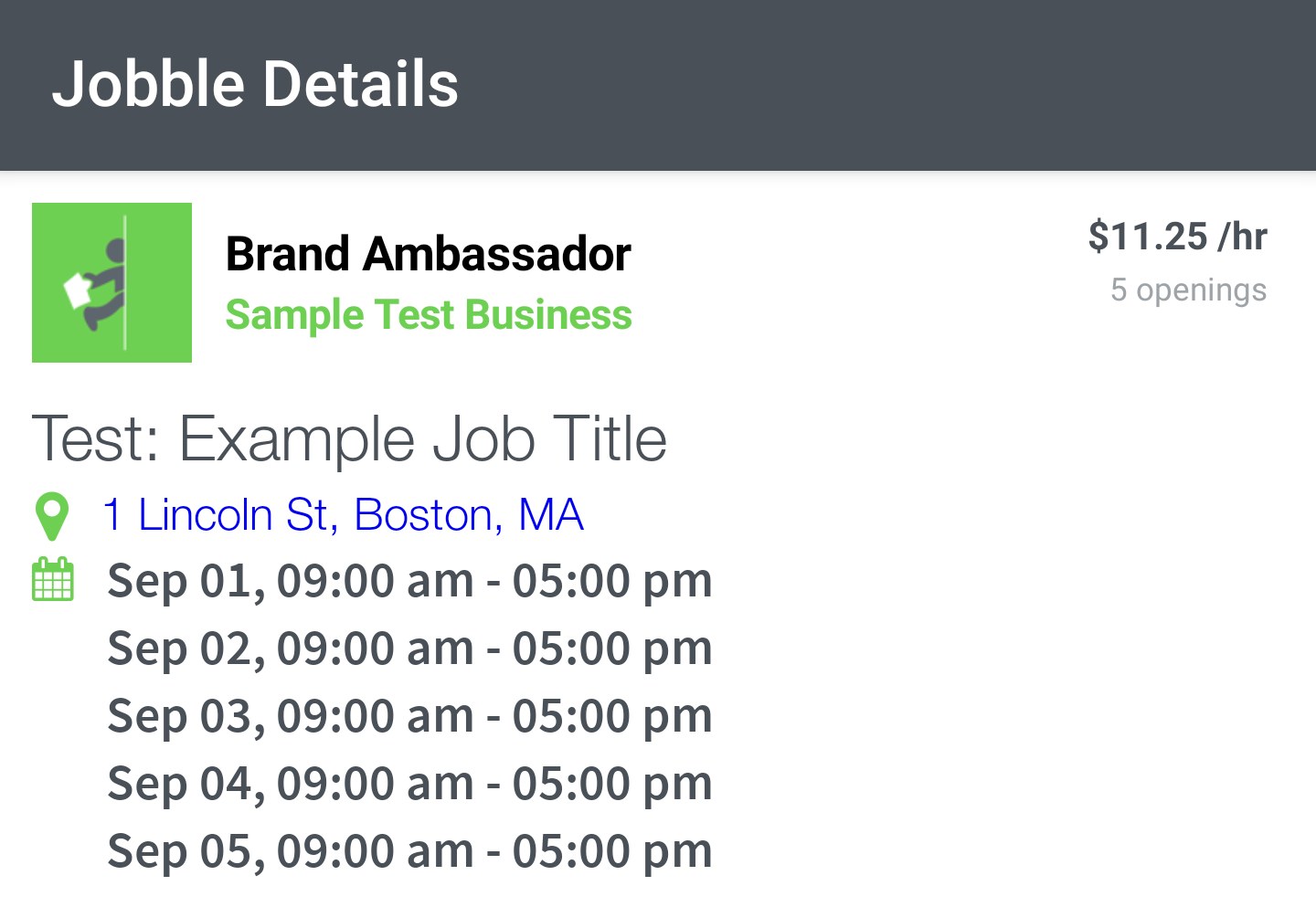 Confirmations
When you apply to a job, you are expected to be available to work each shift listed. After being hired, you will be required to confirm each shift 3 days before the shift starts so the managers know you will be at the job site.
Our Example job:
If you are hired for our "Test: Example Job Title" job, your first shift is September 1 from 9:00 AM to 5:00 PM. You will be asked to confirm that shift 3 days before it starts; you will receive a Confirmation message on August 29.
The second shift is September 2 from 9:00 AM to 5:00 PM. You will be asked to confirm this shift on August 30.
You will be asked to confirm each of the 5 shifts in the job.
Even though you are expected to be available to work all shifts when you are hired for a job, this confirmation process helps hiring managers understand if they need to make additional list minute hires.
Payment
Our business partners are expected to initiate payment for job within 7 business days (weekdays) from the last shift of the job ending.
Our Example Job:
The first shift was September 1 and the last shift was September 5. This means that the Payment Processing Timeline begins on September 5.

Let's calculate the payment timeline for this shift by counting business days. September 7 is Labor Day, which is a banking holiday, so that does not count as a business day. The payment for your job will be in the Payment Timeline from September 8 to September 16.

If you do not receive payment by the end of the business day on September 16, then on September 17 you will be able to file a Discrepancy for late payment.

If you only work some shifts for the job, you will still see your payment processed from the date of the last shift scheduled for the job.