The Gig Economy is Growing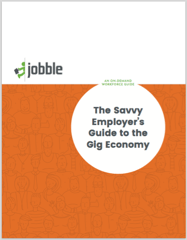 If there's an iron law of business, it is that that the world never stands still. The most consequential change in the workplace is arguably the advent of the gig economy. With this free eBook, you'll be prepared to understand:
What the gig economy means for your business

How your business can benefit from the gig economy

What potential risks the gig economy might have on your business
Once you're done with the guide, you'll be a gig economy expert, ready to take on the new wave of employment.